Nature was my fashion muse as I explored the exotic wonders at Marie Selby Botanical Gardens.
The utter femininity of these fuchsia and yellow flowers combined with the delicate strength found in each petal is the perfect inspiration for a scarf or wrap.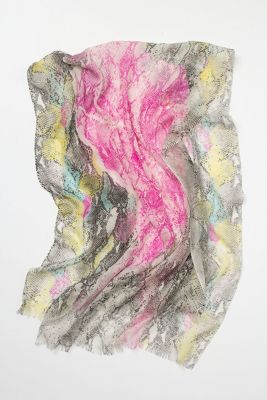 The umbra shading of the colors combined with the snake-skin print bring girlishness and edginess together!
This box plant's reticulated leaf pattern and delicate structure brings to mind a certain clutch…
Simple and elegant. The tailored shape, emerald green color and classic style pack a powerful punch.
Polka dots found in nature are as adorably surprising and fanciful as those found in fashion.
This Silk Dress by Oscar de la Renta from Saks Fifth Avenue has a sweet jewel neckline, cap sleeves and bodice pleats–ideal for a day at the office or a walk around town.
This plant is extraordinary – in shape, vibrance and individuality. The same goes for these fabulous Alexis Bittar hoops, which are an exclusive for Nordstrom.
Don't these shell-like beauties make you feel like you're at a resort bathing in a cerulean sea?
Experience the exotic look of tropical flowers, grass and sand.
You will find unending inspiration for resort-wear in Oscar's latest collection, which is reminiscent of the 60's.
This tree is over 500 years old and stands stalwartly at the heart of Selby.
The serpentine straps of this heeled sandal are evocative of the twisted, winding roots of the ancient tree. P.S. Each photo takes you to someplace special online. Feel free to click for a little added fun!
What is your fashion muse?